DISCOVER WHY YOU MUST PLANT ONLY DISEASE FREE

FLOWERING CRABAPPLE TREES

Learn How To Beautify Your Yard and Increase Your

Property Value With Amazing Crabapple Trees.
PLANT AMAZING CRABAPPLE TREES. THEY ARE THE BEST FLOWERING TREES.
This great Amazing Crabapple Tree e-Book packed full of all the best varieties in Nursery trade today. Flowering crabapple trees are the greatest flowering trees available.
They provide a lot more choices than the whole flowering cherry and plum family No flowering trees offer the great variety of heights, growth habits, flower colors and flower sizes.
You must have this e-book before you buy your next flowering tree. Remember trees are a great asset to human life. They are a visual pleasure. Trees clean pollution from the air that we breathe. Plant Trees, they are a must for your survival.
Amazing Crabapple Trees E-Book CHOICES.
I created this crabapple book because I love this whole group of trees. They offer a variety shapes, flowers and fruit colors. Crabapples provide year round interest with the change of seasons. Great flowers, summer foliage, fall fruit that can last into the very late winter. They are just great!!!!!!!!!!!!!
You Have Big Choices!
Tree Shapes

- Select from the many tree shapes - upright, vase, narrow, rounded, spreading, and weeping or cascading.

Flowers Types

- Select the flower type Singles or Doubles.

Flower Colors

- Select your flower color from white, rose, red, and pink. They are just so great.

Fall Time

- Select from the different fall colors and fruit set.

Fruit Colors

- Select from all of the Fruit colors including red, dark red, green, Yellow and no fruit.

Fruit Sizes

- Fruit sizes from 1/4" To 1" or more.

Fall & Winter

- Fruit persistence from fall to early spring depending on the variety, ideal Fruit 1/4" and persist through late winter for great winter time color.

Branching Pattern

- Winter branching patterns a great asset.

Winter Fruit Color

- Fruit persistence from fall to early spring.
This Amazing Crabapple Tree E-Book has all the answers that you ever will NEED to make your selection.
All for only $14.97
Click below to order now!
CLICK HERE TO PURCHASE <![if !vml]>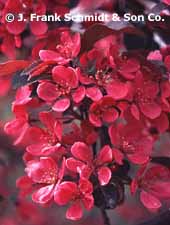 <![endif]>
Free Bonus Gift #1 (Price Value of $ 150.00 Value) 7 day E-Mail Course on Tree Selection and Planting.
Free Bonus Gift #2 (Price Value of $ 160.00 Value) Monthly newsletter entitled Landscaping According To Hoyle. Great Landscape Ideas and problem solving techniques for your home landscape.
Free Bonus Gift # 3 Your own copy of this great Weekend Garden Book for a Beautiful backyard! (Price Value of $ 29.95)
This book has great information for Landscape Architects, Landscape Designers, Landscape Contractors, Nurserymen, Homeowners, and Do-it-yourselfers.

Amazing Crabapple Tree e-Book Is A Must REFERENCE BOOK .
100% MONEY BACK GUARANTEE
Best of all, you can DOWNLOAD TO YOUR COMPUTER NOW!!!
Download Right NOW Under the protection of our ZERO-RISK——100% MONEY BACK GUARANTEE
This Crabapple Book and the great Bonuses for only $ 14.97
Great information for you to keep!!!
Remember, If you are wanting a flowering tree in your yard, the Amazing Flowering Crabapples are your answer. My Amazing Crabapple Tree E-Book will lead you to the perfect disease free tree for your Landscape Needs.
Happy Gardening To You,
Lawrence L. Hoyle
P.S. Order The Amazing Crabapple E-Book Today!
P.P.S. If you are Landscaping, You need a Landscape Plan Now!!!!!!!
Check Out - http://www.web-landscape-design-ideas.com for the best Professional Landscape Design online service available today.
NOTE:
You must have Adobe Acrobat Reader to view this e-Book. It is free!! If you need a copy, Click the Adobe Acrobat Reader button below to download and it is free.

Lawrence L. Hoyle
4032 May Breeze Rd.
Marietta, Ga. 30066-2734
lhoyle@web-landscape-design-ideas.com
P.S. Don't wait, Buy your copy of this great Crabapple Book and receive the your bonuses FREE Now!!! You will not regret you decision.
P.P.S. Only plant disease free cultivars of beautiful crabapples.
The Amazing Crabapple Trees e-book will give the best selection
available today!!!!!




Copyright (c) 2007-2018 www.amazing-crabapple-trees.com